Sferyx JSyndrome Java CSS Editor and Style Sheet Editor Component and Add-on for the
Sferyx JSyndrome HTML Editor Component Edition
---
Advanced CSS Editor Component for your Java applications

Sferyx JSyndrome CSS Editor is a full featured Visual CSS Editor Java Bean component. It is suitable for use in any kind of Java applications which need advanced CSS document authoring or document creation. It includes all the necessary features to create even very complicated CSS documents visually. It includes advanced copy/paste operations, import external style sheets, set the different properties visually, instant preview of the results and more. It is ready to be used as a stand-alone application, part of stand-alone application or as an add-on to the Sferyx JSyndrome HTML Editor Component for example in E-learning and Content Management Systems, site management etc. The CSS Editor component is very easy to integrate into already existing applications as it also has a consistent API which permits its full customization on the basis of the customer requirements. It can be added into the component palette of an Java IDE and this way the main features can be configured visually.

Full range of functionalities comparable to all popular web authoring packages, with familiar text processing interface
Fully customizable - the editor can be fully customize in order to fit your requirements.
Java based product - it is cross platform, tested under Windows, Linux, Mac OS X, Solaris
Optimal ratio price / quality
Very flexible and competitive licensing policy -the best possible pricing options on the market, convenient OEM and SourceCode licenses as assurance for corporate customers
The retail products are assured with 30 days start up e-mail support included in the price
Corporate customers are assured with source code license
Continuous e-mail support through support tickets or annual subscriptions.
Wide range of practically all customization services one client could need in order to fit our products into the customer's requirements.
The Component Edition comes with trusted code-signing certificate from Thawte.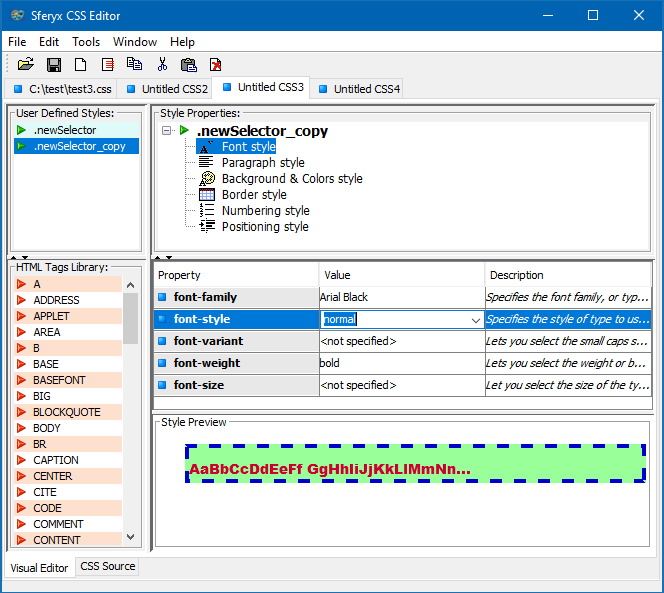 Edit styles and selectors visually very easily by using Copy & Paste functionalities for quick duplication of existing styles and copying over the entire formatting
- Font style
- Paragraph Style
- Background & Color Style
- Border Style
- Numbering Style
- Positioning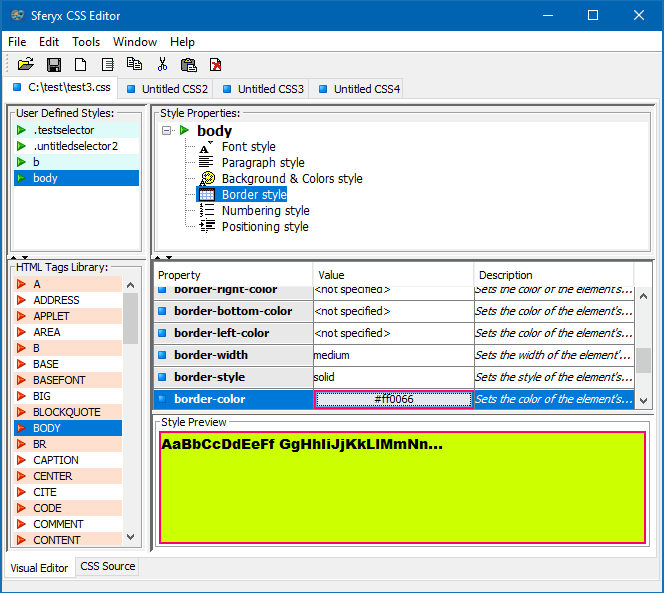 Edit multiple Style Sheets at once by using multiple tabs simultaneously
- Edit all properties visually
- You can always switch to the Source editor for manual editing of the CSS definitions
- Immediate visual feedback in the preview pane
- Tag library for easy import of all HTML tags which need to be customized through CSS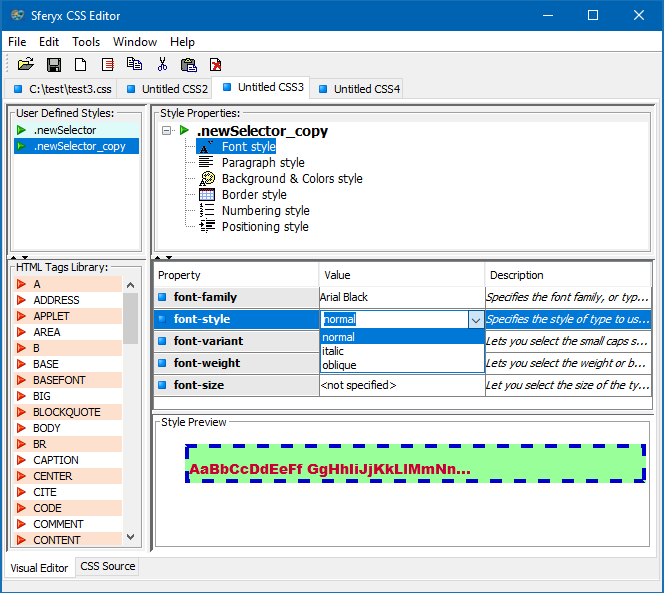 Open and Import existing CSS files, even from remote locations
- Easy customization of all the UI elements
- You can show/hide toolbar items or add custom ones through the available API
- You can add remove menus and menu items as needed
- You can add show/hide the Source editor and also the various CSS editing tabs
- Very easy integration in existing Java applications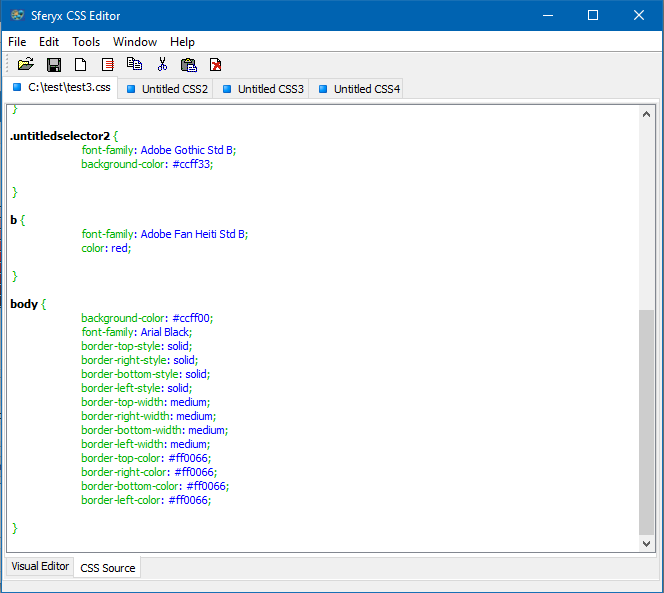 CSS Source Editor with syntax highlighting and code indentation and formatting
- Easy switch between Visual and Source editors
- In each CSS Editor tab there is also the relative Source editor
- The Source editor can be disabled or hidden so the end users cannot edit the CSS sources directly

All Sferyx products are assured with continuous e-mail support. With the retail products is included in the price 30 days startup support. Additionally, you can purchase annual support subscription tickets from our web store.
Sferyx offers also a wide range of customization services for its products in order to satisfy any customer requirement. We can adapt our products to fit the customer needs and any kind of integration requirements. We execute also express developments, customization under request, development of new features on demand. You can request a quote at sales@sferyx.com or support@sferyx.com indicating your requirements and the terms of delivery.